13 Best Home Automation Systems for Each User Type
The breadth of smart home offerings can be overwhelming. You will find everything in a smart way today.
With a home automation system, also called a smart home ecosystem, you can keep everything in check, connect to your smart devices, and control them all centrally with more ease.
Whether you're a busy professional who wants a more automated household,
or a tech enthusiast who just loves smart home gadgets,
or a new mom or dad who needs moments of controlled distance,
or if you wish to help your aging parents embrace independence at home for the longest time possible
or simply want to try it out…
There's a home automation system to suit your needs.
I am sharing my knowledge, experience, and research to make it easier to find the right home automation system for you and to know where to get started.
What Are The Best Home Automation Systems?
Everyone lives differently and has different preferences. Therefore, the best home automation system for you is simply the one that best fits your lifestyle, needs, and preference. Below you find the best home automation systems on the market for three preference types.
Disclosure: This post may contain affiliate links, meaning we may earn a small commission if you decide to purchase through these links. It is at no cost to you.
Best Home Automation Systems for Ease-of-Use
These great home automation systems are easy-to-use, intuitive, and fast to set up and are widely available. If you are an impatient person like me and want things to connect and work quickly, this is the list for you.
If you are a Google and/or Android user, or if you're starting your home automation project Google's home automation system, Google Nest hub, is a truly great option as it is very easy to use, offers great compatibility, futuristic smart devices, and plenty of features.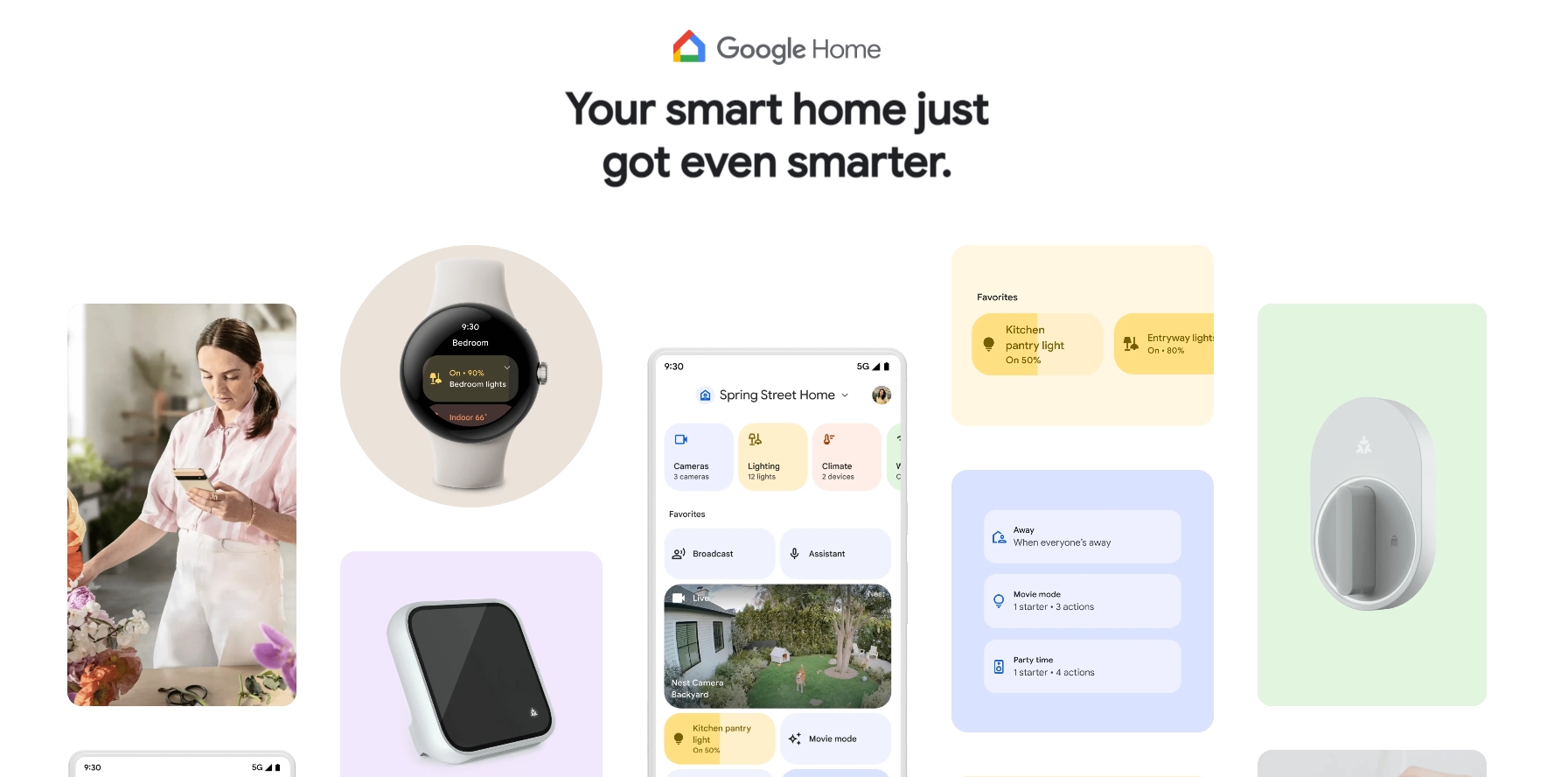 Google Home is a home assistant and an app that enables central control of your smart home. It is used with Google Nest products that serve as a smart home hub. Google Nest products include Google Nest thermostats, Google Nest cameras, Google Nest doorbells, Google Nest Secure alarm system, and Google Nest × Yale Lock as of March 2023.
Google Assistant is their "personal assistant" within Google Home that acts on your voice commands – it's basically the Alexa of Google. Google Assistant is an easy way to use your phone and apps, hands-free. It works with your favorite mobile apps on all smartphones and mobile devices, with more partners on the way. It doesn't matter whether you have an Android or iOS device.
Pros
Easy to set up and use
Compatibility with many third-party smart devices
Accurate recognition of voice commands
Google Assistant
Useful sync with Google services like Google Calendar or Gmail
Extensive online support content & excellent customer education resources
Cons
Some users found it not easy to enable/disable individual devices on the network
Only comes in one color/design
Control your smart home devices effortlessly through voice commands or a simple touch on the home panel, giving you access to manage and fine-tune your compatible smart home devices
Wrap Up
Google Nest is a comprehensive smart home ecosystem designed for user-friendly control, boasting compatibility with a wide range of smart devices and offering strong technical support, making it accessible to anyone looking to enhance their smart home experience.
Amazon's smart home ecosystem is a well-known home automation system that is easy to use and intuitive, ideal for getting into home automation. The Alexa system can be set up and controlled using their speaker Echo and/or the smart display line Echo Show which are both very popular.
If you want home automation system capabilities and control of your smart home from a central hub, you need to make sure to get an Echo device with Zigbee compatibility. Zigbee is the most common device-to-device communication standard and will ensure good compatibility with most other smart mobile devices connecting over WiFi and Bluetooth.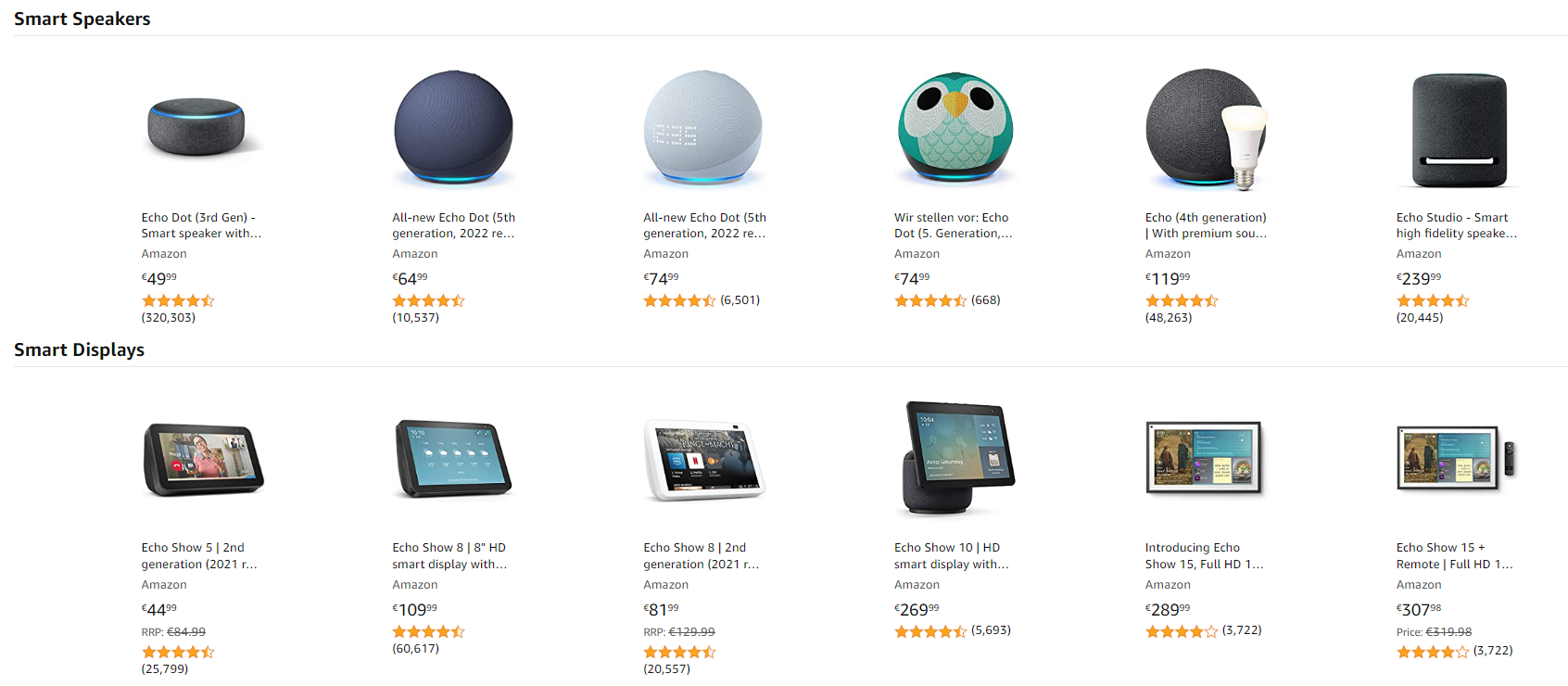 Pros
Fast & easy setup
Stylish modern design
Amazon's range of smart home devices
Compatibility with many third-party smart devices
Wide range of features & Alexa skills
Accurate voice recognition
Low to medium prices
Extensive online support content & communities
Cons
A little clunky-looking Amazon Alexa App
Echo Hub is a user-friendly smart home control panel compatible with over 140k devices, offering customization, home security features, and eco-friendly design, all designed for seamless integration and ease of use.
The Echo Show 15, featuring a 15.6″ Full HD smart display, Fire TV integration, customizable widgets, and smart home control, provides a versatile and privacy-focused solution for family organization and entertainment.

Wrap Up
The Amazon ecosystem is best for users looking to seamlessly integrate a wide range of smart home devices and services, offering compatibility and voice-controlled convenience. However, it comes with privacy concerns related to voice recordings and variable quality in third-party skills for Alexa.
If you are a heavy Apple fan, Apple Home might be a great option as you will not need to get a separate hub to get started.
You can just connect your iOS device, smartphone, or another mobile device, e.g. smart light bulbs, etc., to the Apple Home App and just start using the features. Their smart home platform is also called HomeKit, it is often used interchangeably with the Apple Home App.
The caveat with going "hubless" is that you/your smartphone needs to be on the same WiFi as the other smart devices on Apple Home to use them. So, no robo-vacuuming or locking doors from outside your home.
Unless you set up your AppleTV, iPad, or HomePod as a hub which is an elegant Apple-like way. That thing just has to stay home and be charged to work as a hub.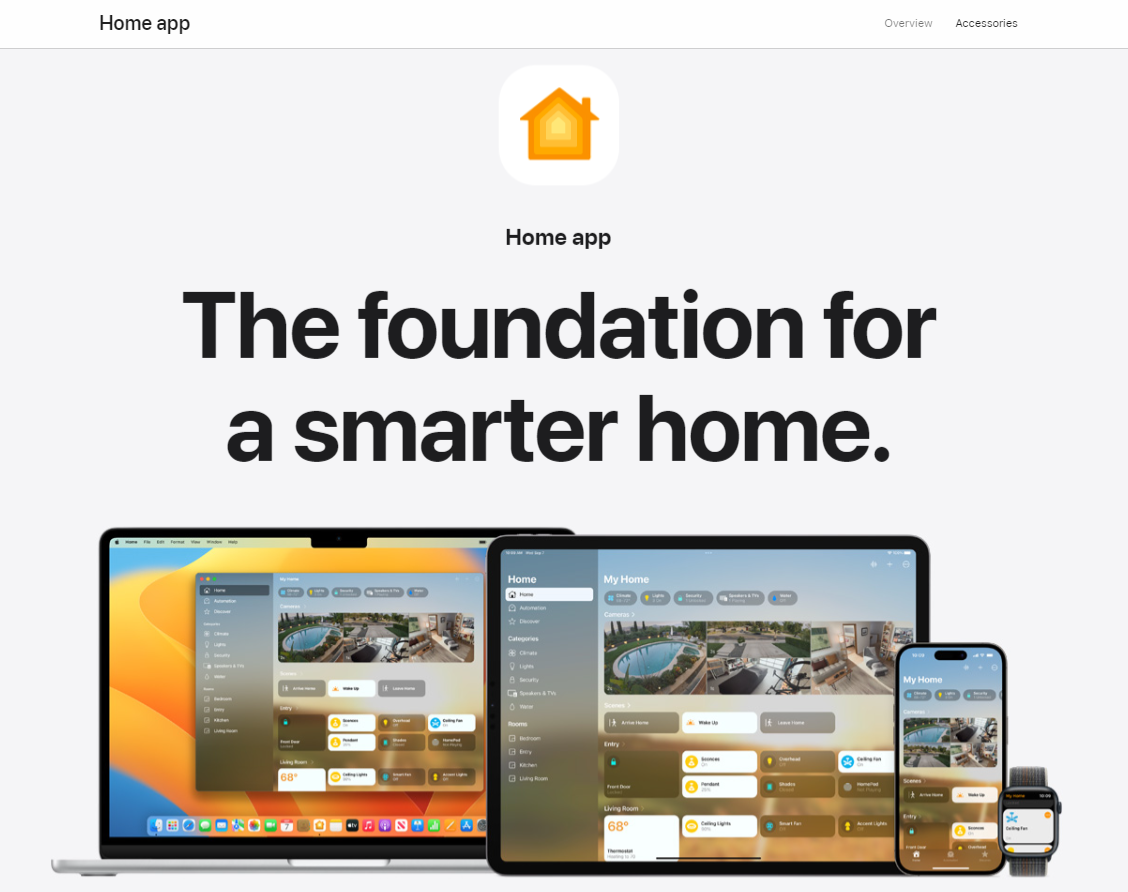 Pros
No extra hub device needed
Effortless, elegant Apple ecosystem
Easy setup with Apple products
Siri voice control
Matter support from iOS 16.1
Cons
Apple is relatively expensive
Low compatibility with other smart home brands/ecosystems
HomePod by Apple is a smart speaker that enhances audio experiences and provides effortless integration into a private and secure smart home, with Siri included for voice control and Find My functionality for locating your devices.
Wrap Up
Apple's ecosystem such as HomePod, which encourages the use of smart devices exclusively compatible with HomeKit, prioritizing security, privacy, and a unified user experience for Apple users.
Best Home Automation Systems for Custom Automation
The best smart home system options for individuals who are willing to invest in high-end systems that offer unparalleled convenience, flexibility, and security.
These selected candidates provide the most cutting-edge solutions, the highest level of customization and flexibility, and comprehensive support services.
SmartThings is one of the best smart home hubs available. It's a super balanced customizable DIY (Do-It-Yourself ) option for the ones seeking high usability and more customization options in their home.
SmartThings is owned by Samsung but they licensed the hardware manufacturing to Aerotec, so now we have the Aeotec SmartThings Hub… or just SmartThings. It offers great compatibility with your favorite smart devices.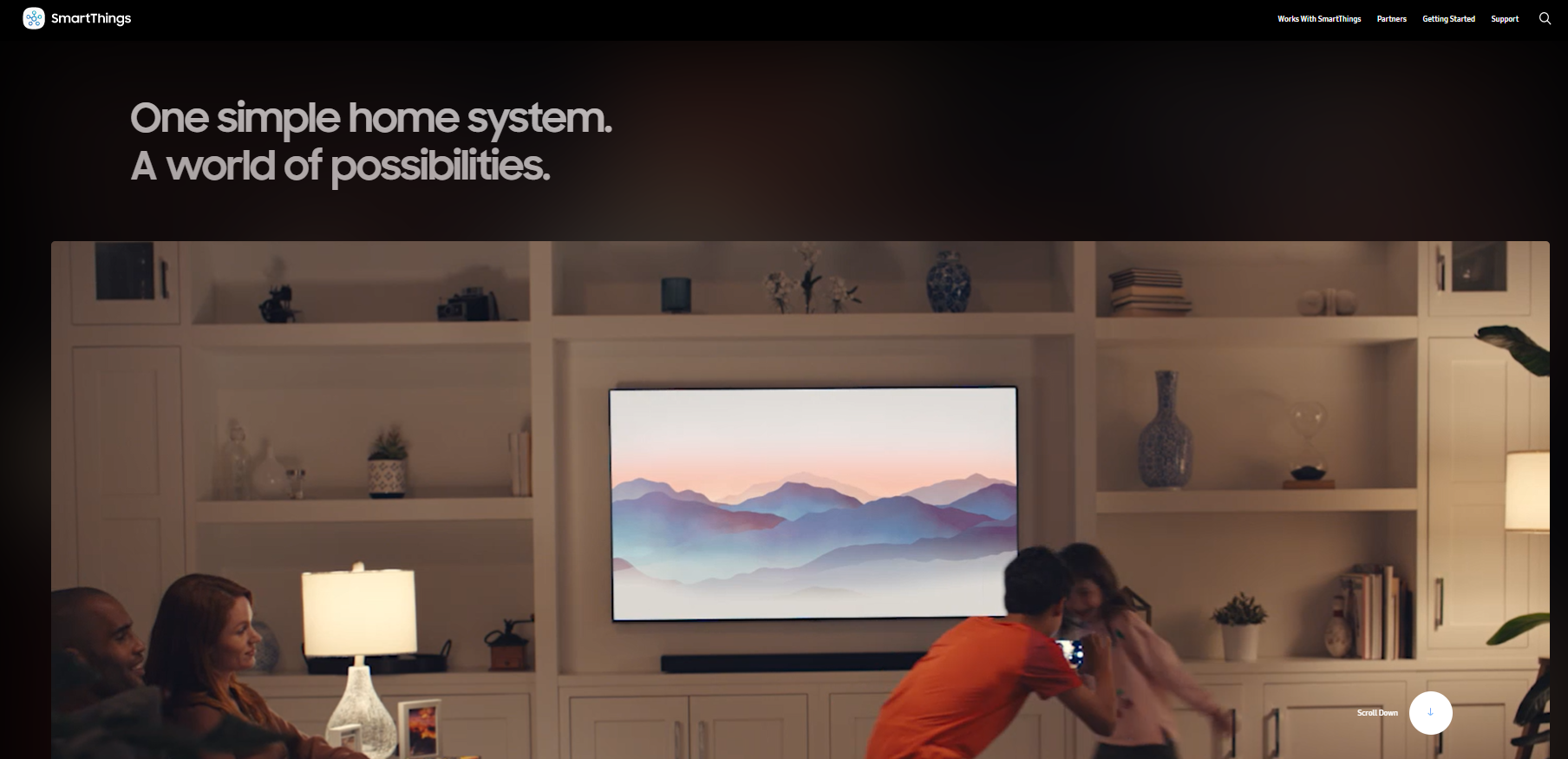 Pros
High-end design
Great compatibility across all your favorite smart home brands
Powerful automation/customization options
DIY solution
Focus on simplicity & flexibility
WiFi or Ethernet connection
Works with Zigbee, W-Wave, WiFi devices
Easy-to-use app
Cons
Setup can be more complex than the above-mentioned brands
Migration from older to new hubs may be difficult
The Samsung SmartThings Station is a smart home hub that doubles as a super-fast wireless charger, offering intuitive device connection, device tracking, and personalized home automation, all in a stylish design, ensuring your home is always at your command.
Wrap Up
SmartThings by Samsung is an excellent choice for those seeking customization, more powerful automation, and broad device compatibility for their smart home.
Crestron Home offers home automation systems for the luxury residential clientele, as showcased in their beautiful case stories on their homepage. They offer a truly complete package that will cater to every need you might have in your home automation dream.
Every Crestron Home system is custom-tailored for each homeowner. Needless to say, this is not a DIY project but requires professional installation from selected dealers from start to finish.
Crestron Home provides a state-of-the-art operating system that integrates with proprietary components, existing specialized systems, and most favorite devices.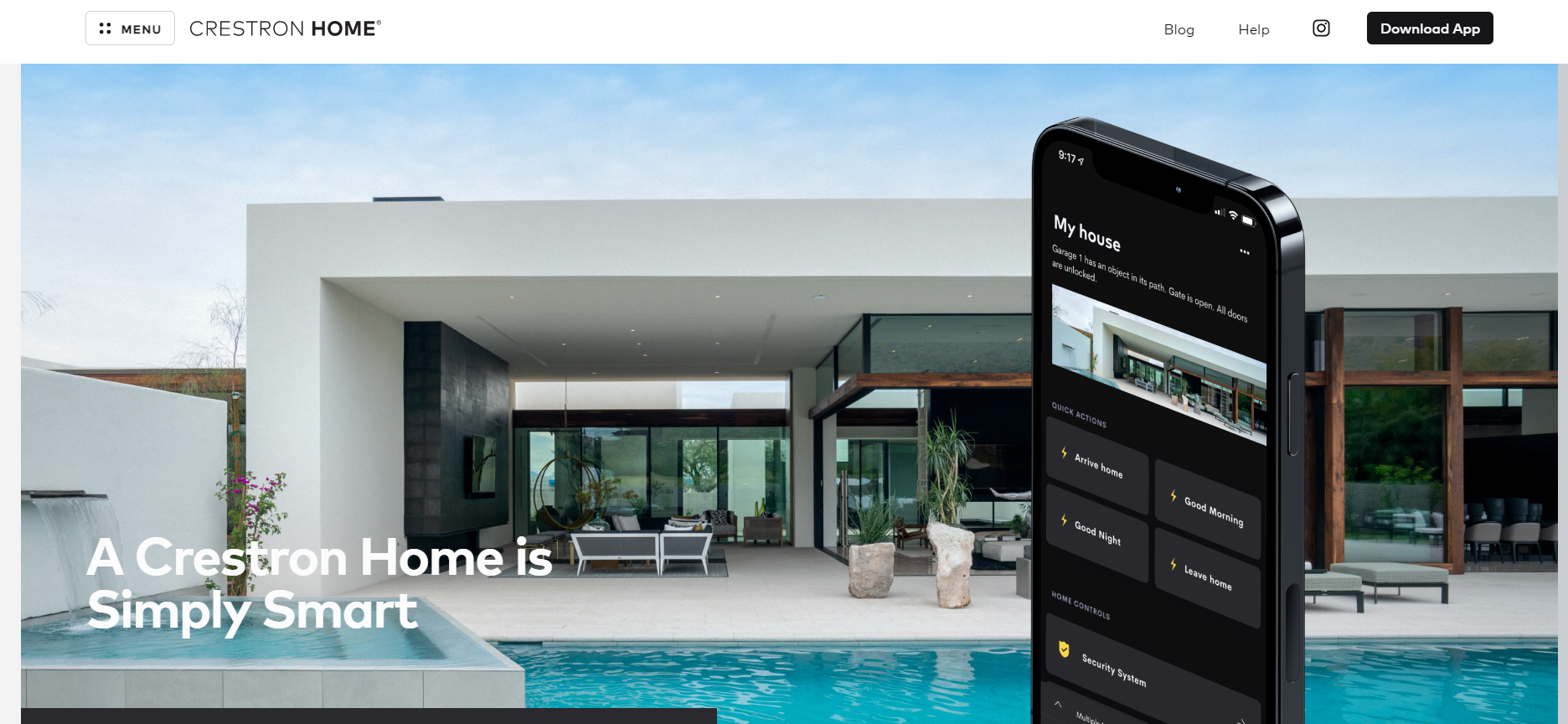 Pros
Designed for luxury
Convenience of professional installation
Large portfolio of well-integrated third-party products
Highly customizable system
Easy to operate & control
Rock-solid infrastructure to stand the test of time
Scalability up to 252 devices
Robust & stable system
Many upgrades
Cons
Very expensive
Installation time may take longer than other smart home systems
Might not cover integration of some popular consumer brands
Hubitat is probably the best commercially available hub for true custom automation geeks that do want to get their hands dirty. Custom automation doesn't have to be only for the luxury clientele.
If you are not a beginner in custom automation and want to write your own scripts to make your tailored home system, Hubitat is an amazing and powerful choice.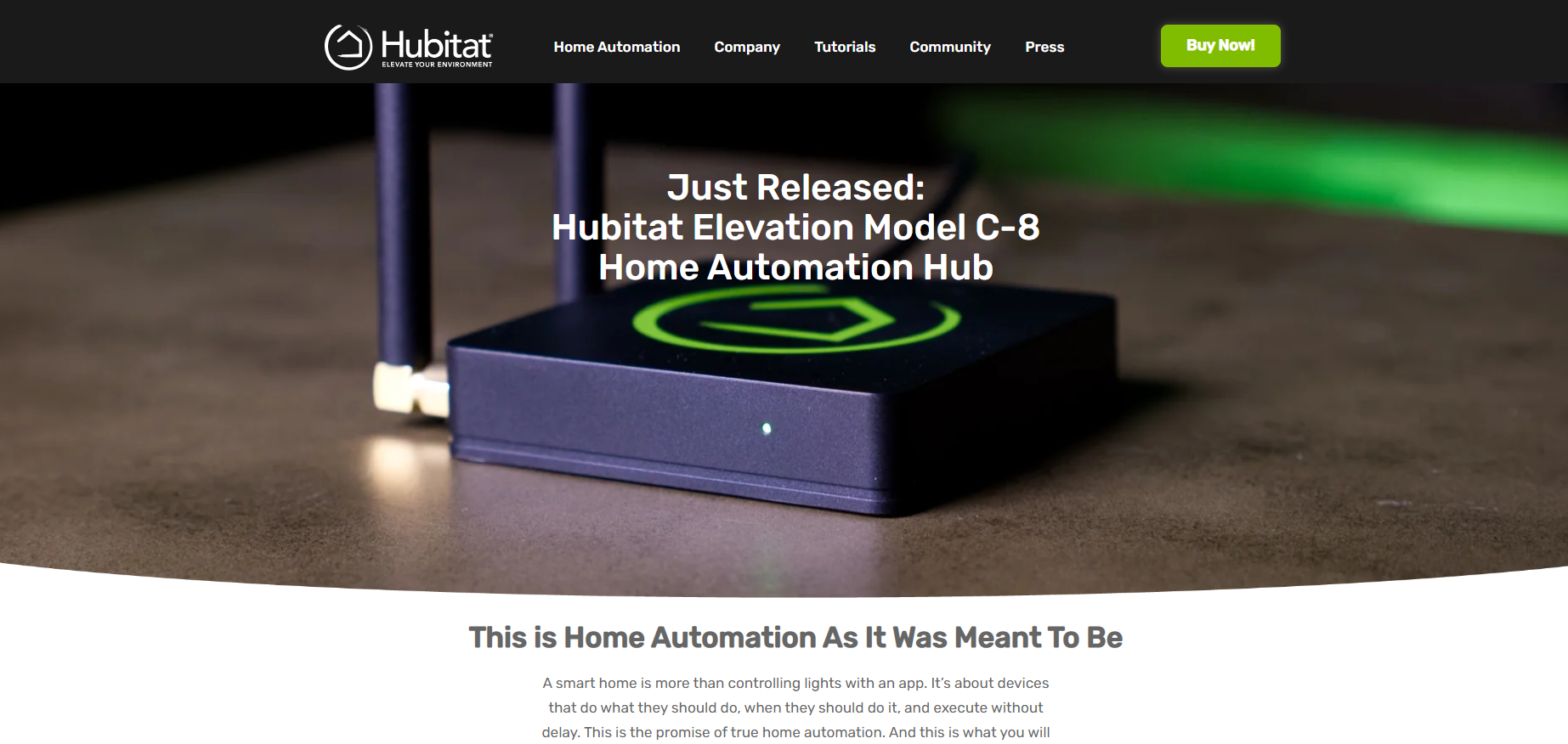 Pros
Custom automation system
Most smart home devices supported
Internet access not required
Can be programmed via app/browser
Cons
Software mastery not easy
Savant is a true premium smart home system. If you are a house or apartment owner who wants a polished and innovative whole-house automation system, Savant is for you.
You can have your beautiful Savant home automation system customized and installed. This is not a do-it-yourself solution you can purchase and set up yourself.
The total cost of Savant will vary greatly depending on the size of your home and the features you would like installed.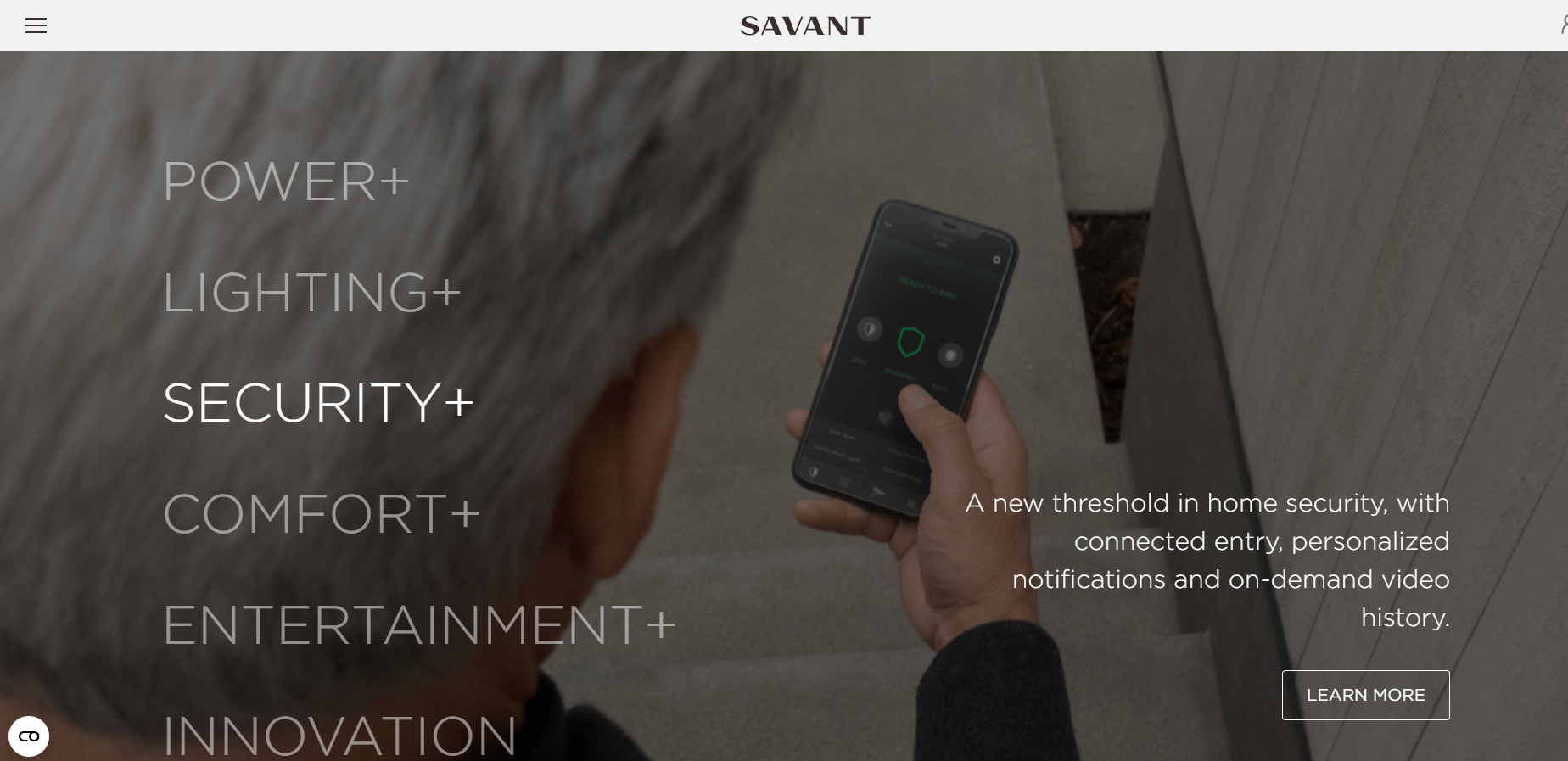 Pros
Exceptionally aesthetic & sleek design
Seamlessly personalized home automation
High compatibility with nearly popular devices
DIY solution available (if you want this)
User-friendly
Cons
App updates show some issues
Control4 specializes in creating custom-connected smart systems for various types of properties such as homes, hotels, and business premises/commercial automation. Only authorized dealers are allowed to install and configure their systems.
This high-end option costs significantly more than DIY systems but comes with the convenience of not having to get your hands dirty, and world-class equipment.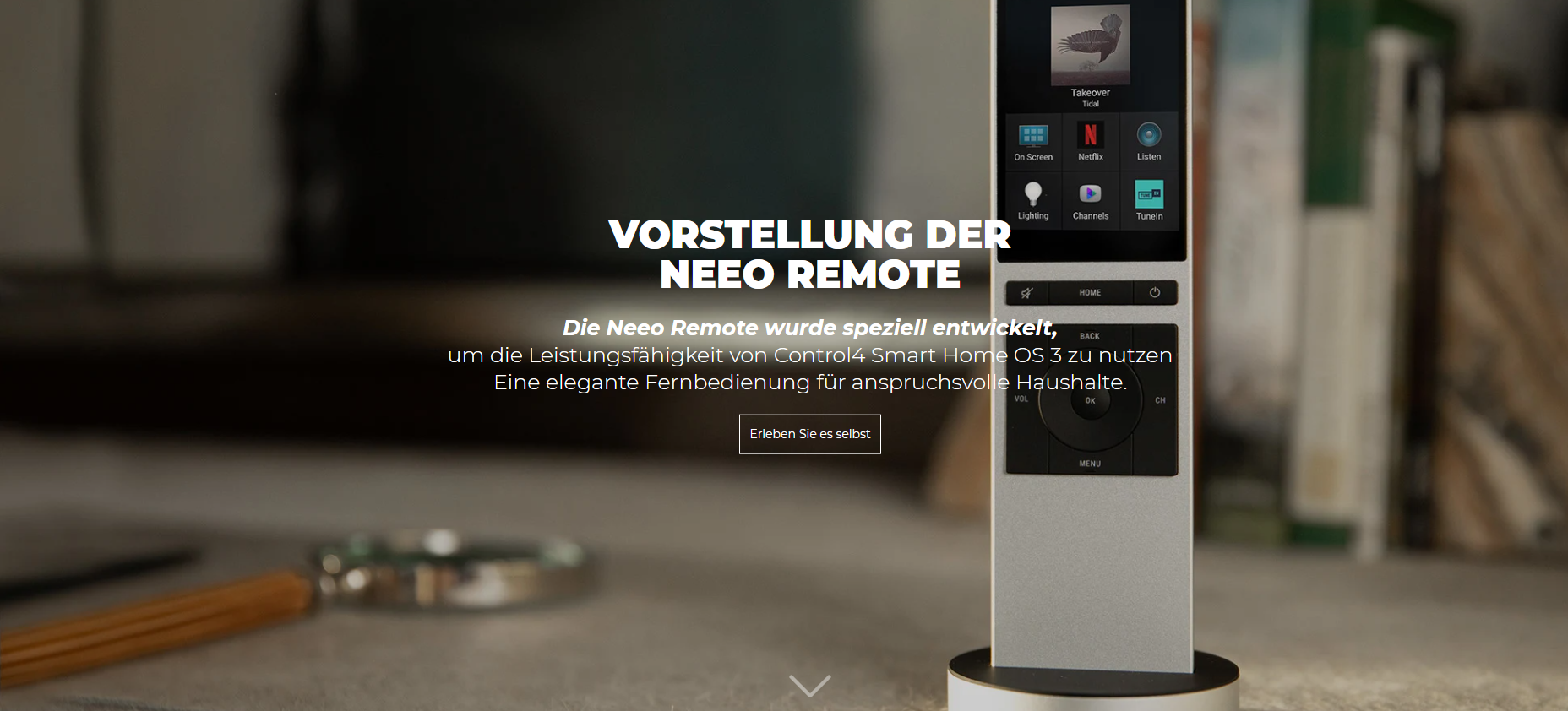 Pros
Amazing customer service
High-end, word-class devices
Premium experience
Tailored specs & highest customization
Cons
Very expensive
Limited user configurations
Locked-down system
Design does not look as slick as other brands
ELAN specializes in home automation systems for homeowners and businesses. To fulfilling your ELAN smart home dream, a professional dealer will assist you in designing your home system and provide you with a quote.
ELAN's home automation system is a great choice for anyone looking to customize, simplify and streamline their home living experience.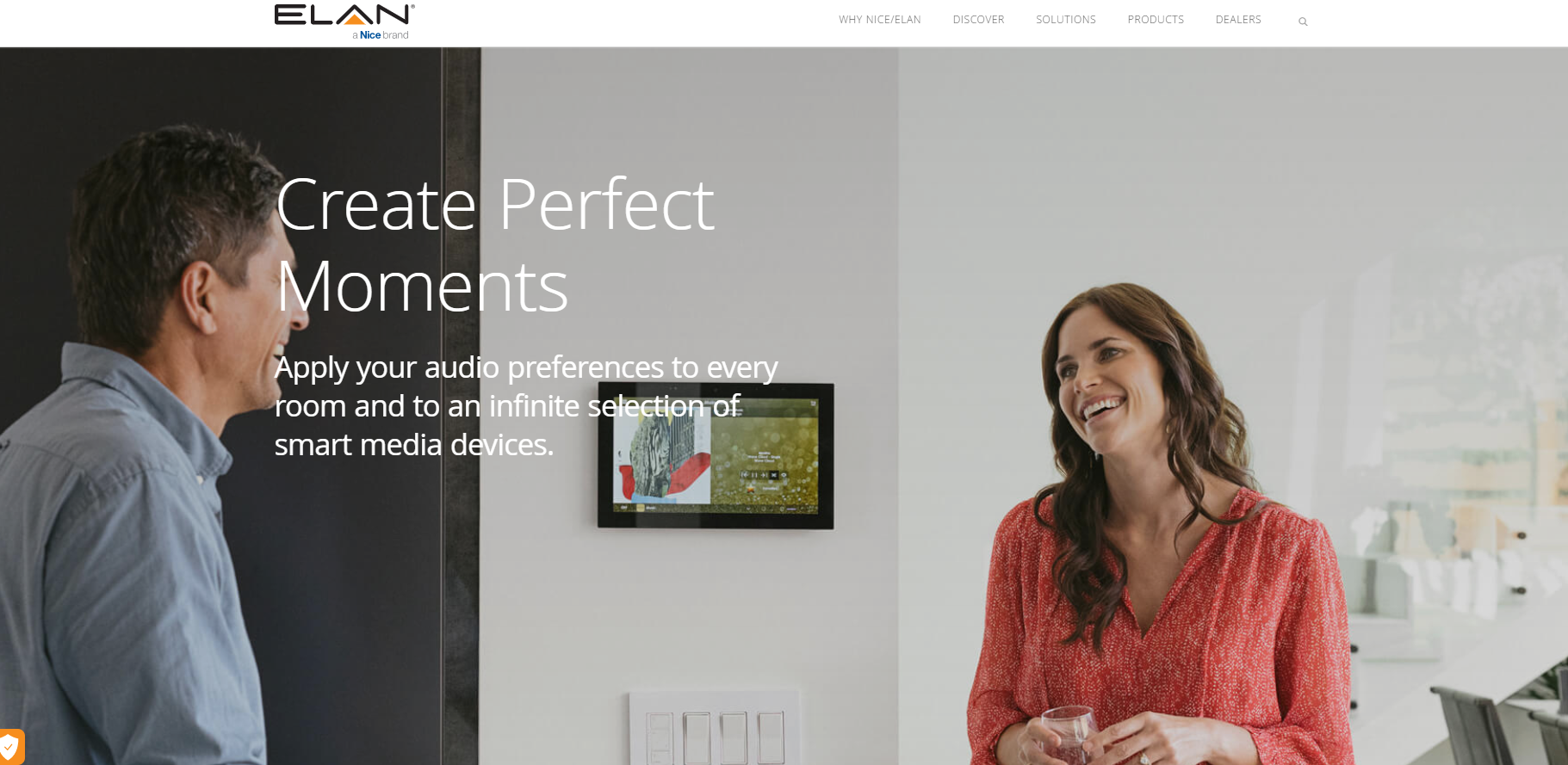 Pros
Convenience of professional installation
Customized home automation system
Great user interface
Numerous features
Cons
Expensive
Fewer reviews & information online than other brands
Best Home Automation Systems for Affordability
IKEA offers amazing value for money. If you are into Scandinavian design and do not want to spend too much on smart home equipment, IKEA Home is for you.
IKEA home supports all standard smart home brands such as Amazon Alexa, Google Home, and Apple Home. Their latest smart home hub is called Dirigera and will replace their previous line called Tradfri Gateway.
IKEA also offers a range of smart home devices from smart lights to speakers to many other smart devices.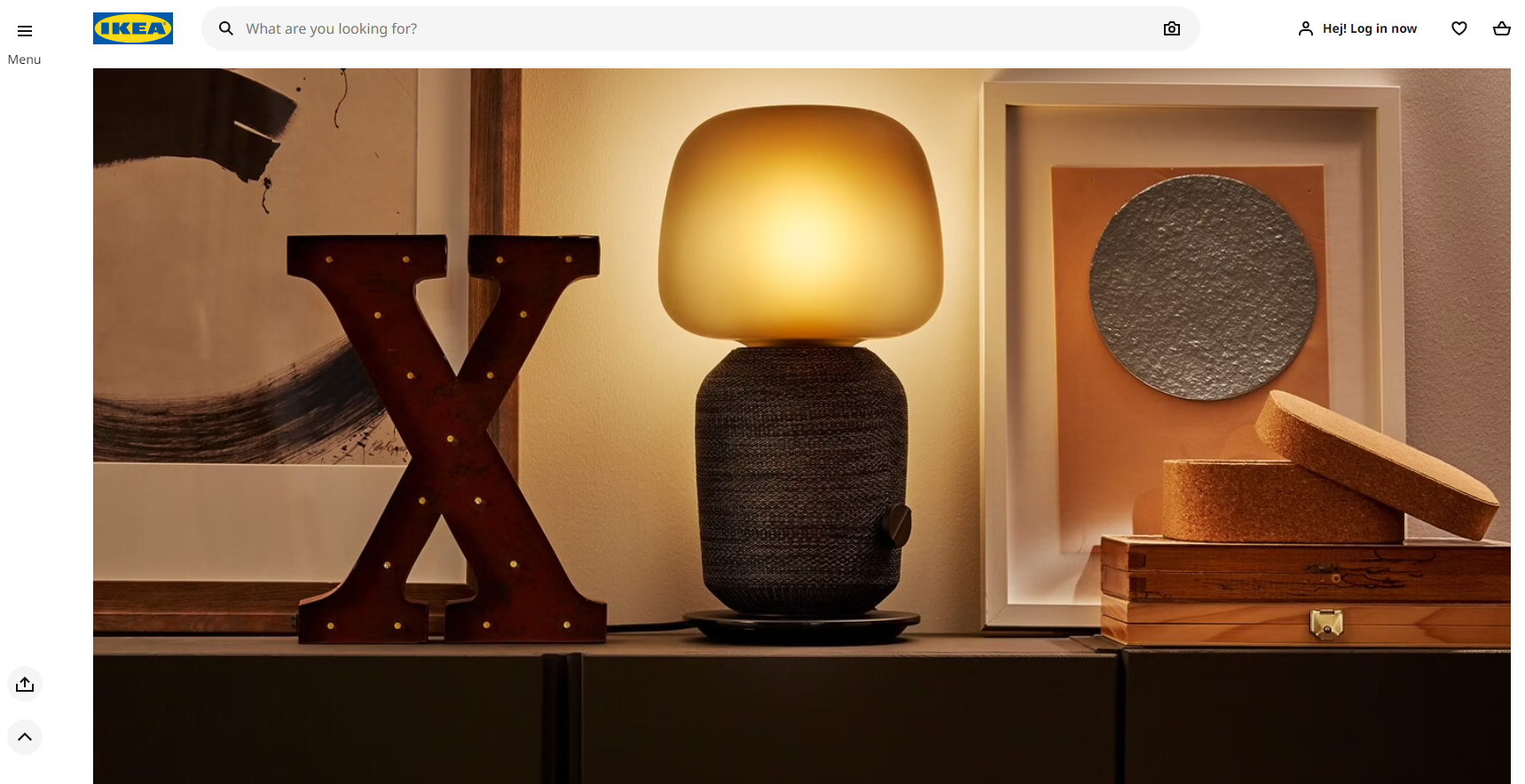 Pros
Very budget-friendly
Great value-for-money ratio
Neutral, Scandinavian design
Easier setup (than Tradfri)
Interoperable / Matter support upcoming
Cons
No migration tool to move existing devices over from Tradfri Gateway to Dirigera
Not as flexible as other smart home systems
Still a little buggy experience
Tuya and SL are essentially the same, with the only difference being branding. Both use ZigBee, WiFi, and Bluetooth to connect devices and have notable partners in their ecosystem, such as Philips and Schneider.
While not expecting a premium experience, this platform should suffice for basic smart home automation. Great choice if you don't want to spend much money in setting up a solid smart home.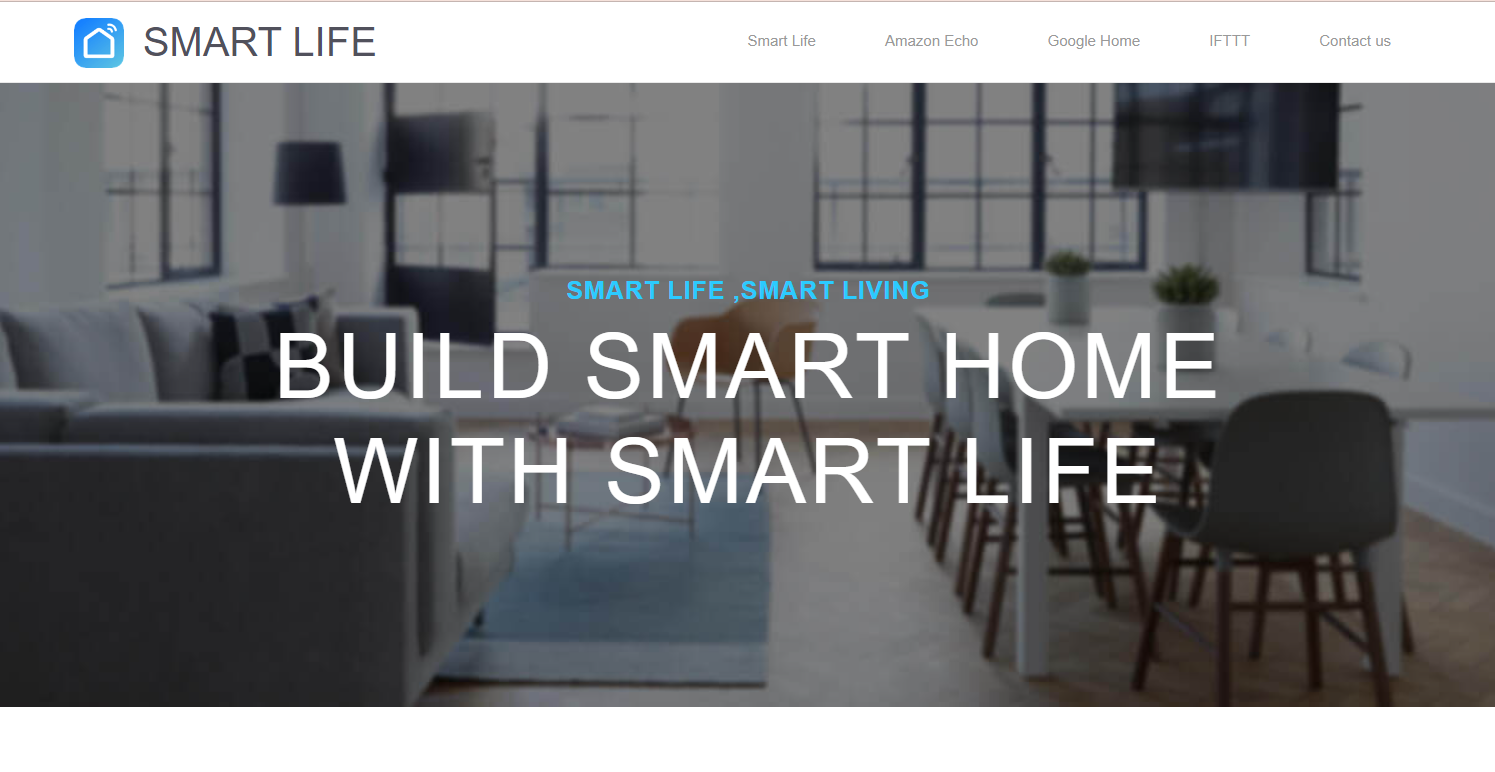 Pros
Very budget-friendly
Huge range of products
Powerful app
Many features
Cons
A little clunky
Lower quality than big brands
Up-and-coming players
EZLO, previously known as Vera, offers strong home automation system hubs, including a free software hub for tech-savvy individuals.
Ezlo supports a variety of features such as voice assistants, IFTTT, ZigBee, Z-Wave, and even has a compatibility list for devices, which is impressive and super helpful.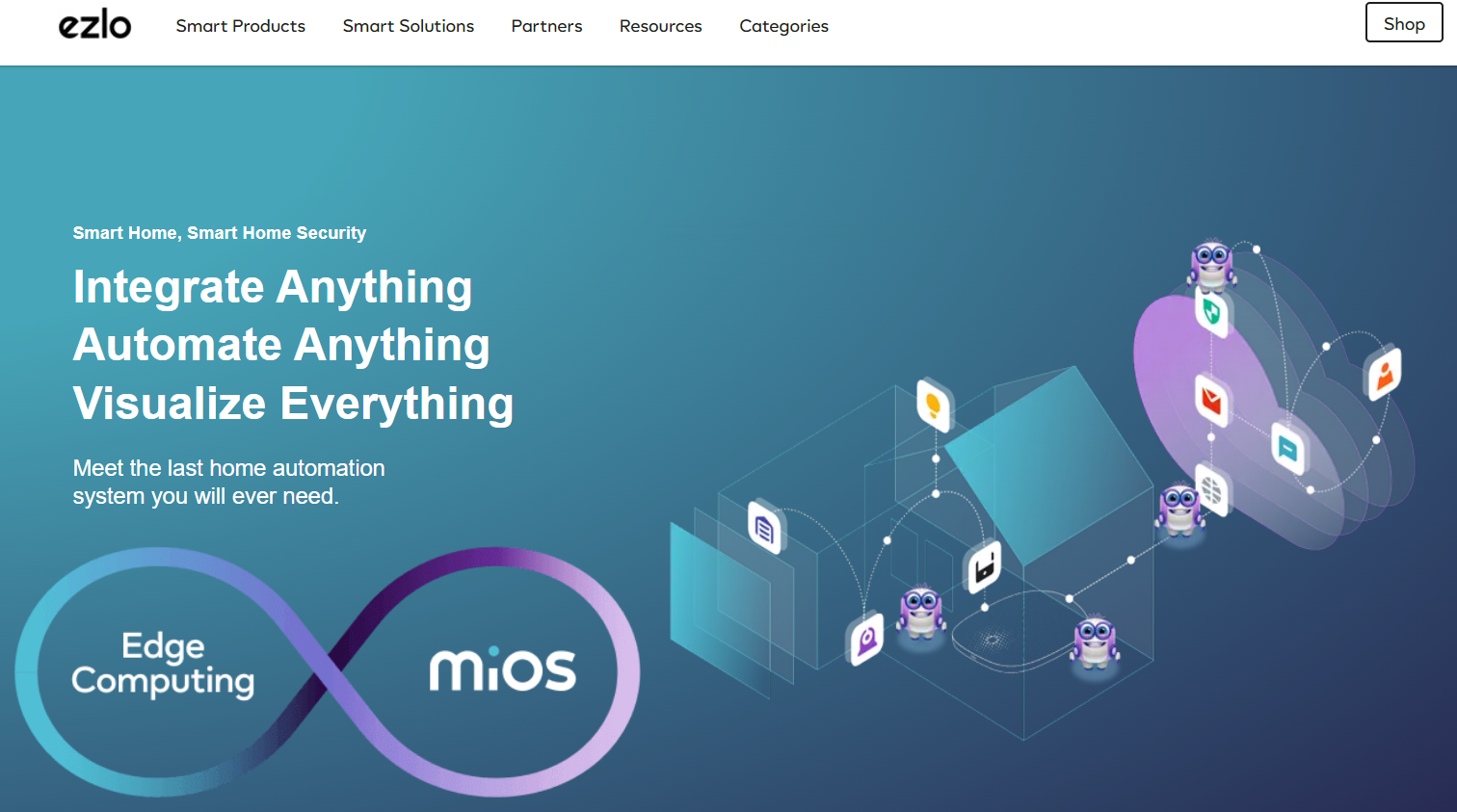 Pros
Budget-friendly
Great technical support
Plug-and-play
Extensive content, user manuals, tutorials
Cons
A little clunky
High-speed requirements
A little more tech-savviness needed
If you're seeking a single device to manage all your smart devices, the Wink smart hub is an excellent option. Wink connects to your network and pairs with your smartphone or tablet, making it effortless to add new devices by using the Wink app to search for them.
Wink specializes in DIY home automation systems and offers products such as the Wink Hub, Wink Relay, Wink mobile app, and several other Wink and Wink-certified products.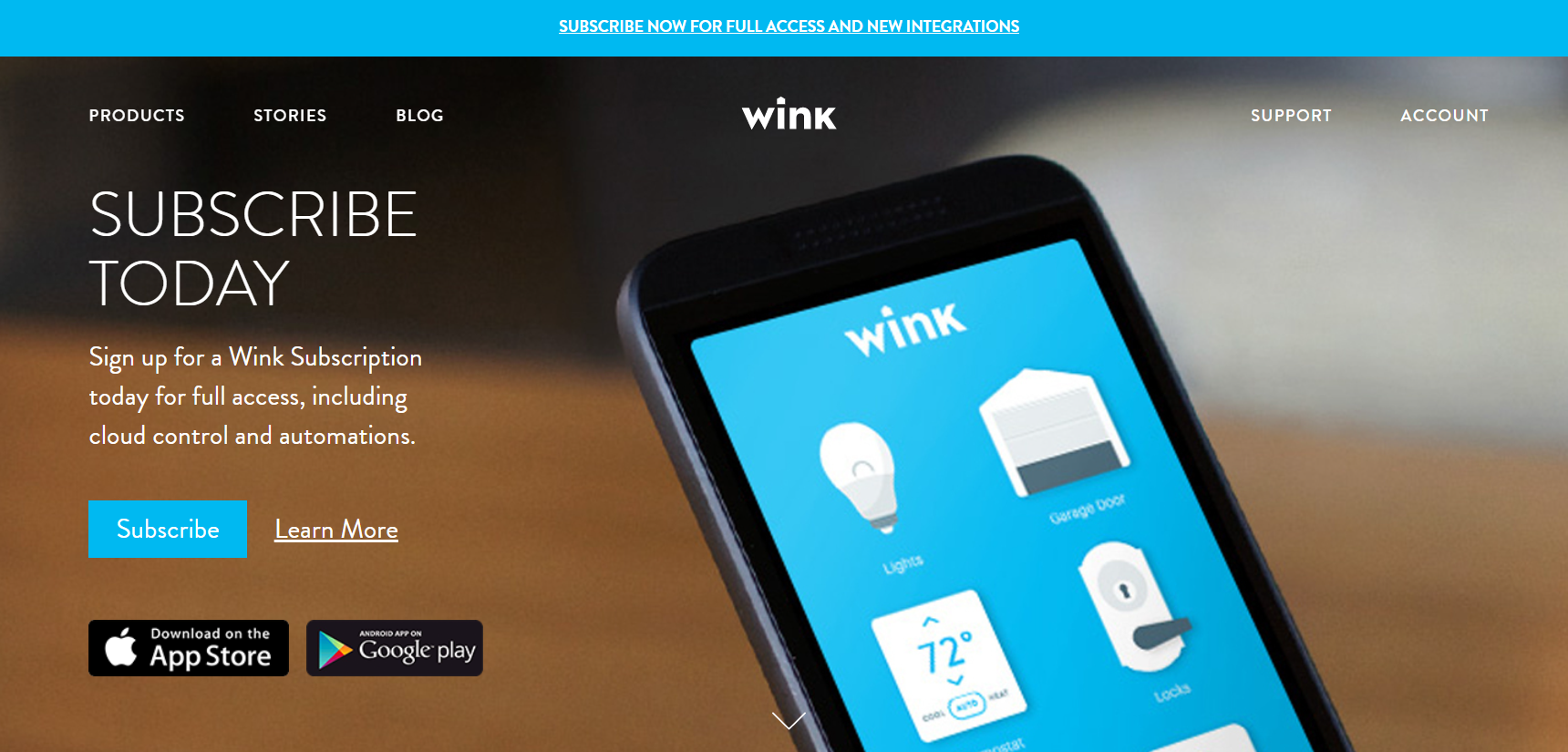 Pros
Relatively budget-friendly
Great technical support
Easy-to-setup & user friendly
Effortless DIY solution
Cons
Wink 1 has some connectivity issues
(Wink 2 resolved it but is a little more expensive)
Relatively large product design
FAQ
What is Home Automation? What Is a Home Automation System?
Home automation is the concept of seamless integration of your household features, activities, and smart devices through electronic control aka "smart technology"- to make your home even more comfy and convenient.
A home automation system is the tooling needed to realize automation in your household. It covers a network of hardware, communication, and electronic interfaces that work together to integrate smart devices with one another through the Internet.
With sensors and WiFi connectivity, you can control your home from your smartphone or tablet, whether you're at home or away. For example, you can turn on the lights, check for movements in the house, lock the front door, or even adjust the heat with just a few taps.
How Does A Home Automation System Work?
To break it down further, a home automation system has four main elements. There are different definitions out there but if you're not an electrician or similar, these key elements of a smart home system are what you need to know: Hubs, Standards & Technologies, and Devices.
Smart Home Hubs
The hub is the heart and brain of your home automation system. Think of the hub as the conductor of an orchestra, bringing all the devices together to create a beautiful symphony of automation.
There are many different hubs out there, each with its own strengths and weaknesses. Some are cloud-based, some are local, and some are hybrids.
If you're just starting out, you don't need to worry too much about the technical details. As long as you check for compatibility, you're good to go.
Smart Home Standards & Connectivity Technologies
Standards are basically the language the machines talk to each other. Multiple connectivity technologies are utilized to enable communication between different devices. In this context, I use the terms connectivity technologies and standards interchangeably.
One critical aspect of creating a well-integrated system is ensuring that the hub can communicate/connect with all the smart devices in use. Think of the hub as a central communication point for all your devices, acting as a translator between them.
The most common connectivity technologies smart home devices and hubs communicate through are WiFi, Bluetooth, Z-Wave, Zigbee, Thread, and Matter.
Particularly in this space, there is more standardization upcoming in the next years to make home automation systems even easier to set up and to make device compatibility simpler and more fluent. Thread and Matter are drivers and key technologies of this development.
Smart Home Devices
Finally! Smart home devices are the fun stuff. These are often called IoT devices. IoT stands for Internet of Things – but don't be confused, not every smart device necessarily runs over the internet.
A smart device offers the functionality and features you want in your automated home. Also called smart gadgets, these are made for doing the job you want to be automated.
Smart bulbs, smart TVs, smart speakers, security cameras, smart digital photo frame, smart refrigerators, smartwatches, smart fire alarms, smart door locks, movement sensors, medical sensors, fitness trackers, smart security systems, etc., are few examples of smart home devices.
What are the Benefits of Home Automation Systems?
The primary purpose of home automation is to streamline how your home functions, making your life more comfortable, convenient, fun, and safe.
Home automation can do so many things to benefit your daily life:
Remote access & control
A key benefit of a home automation system is remote access. You can control your home from anywhere with an Internet connection: Want to run the robot vacuum whilst on vacation? Want to check if the door is locked on the way to work? Want to check if your dog is not eating your pillows whilst you're away?

More Comfort, More Time, More Fun
More automation and less household effort is something anybody would want. Today there are already hundreds if not thousands of features available to make your household work run easier for you – and the list is growing fast. Voice assistants and robot vacuum cleaners are only the beginning.

Security & Care
Security cameras or motion detectors, and other smart devices allow you to make sure your home is safe. Several great functionalities combined allow to even enable more independent home care for the elderly or disabled persons.
These benefits and more and be unlocked through home automation.
My Advice: How To Start Your Home Automation System
Top Tips
Tech-savviness: Depending on your level of technical expertise, your strategy for finding the right home automation system will differ:

If you're very tech-savvy, I'd say to deep dive further into some research, find other opinions and reviews out there, and try to find an ideal configuration for your needs upfront. And DO start buying, testing, and implementing at some point because the analysis paralysis is real.
If you need a hand in starting out, I'd suggest taking incremental steps, see next point.

Make incremental purchases: If you have never used home automation tools before, I suggest you do not start by installing tons of new things all at once but take one step at a time: Choose the 2-3 main devices or functionalities you prioritize, set them up, and continue your shopping journey from there.
Check for compatibility: Check if the smart home system you choose supports your existing smart devices or if the devices you choose work in your smart home system. Helpful indicators are logo badges on the product packaging or product pages which show if certain systems and brands are supported.
Get off-the-shelf products, ideally from well-known brands in the IoT and smart home space. They come with support, online forum entries, and helpful content you can use if you need any advice. Do not blindly trust big-mouthed engineering friends who try to build you stuff. This homemade stuff rarely integrates well with standard products.
Budgeting: If some simple home automation solutions are wanted, going cheap is definitely a valid option. If you're automating the home for long-term use or to assist the elderly, I would suggest maximizing for quality.
You can find also a complete guide on how to turn your home into a smart home here.
Bottom Line
So there you have it! The future is here, and it's all about home automation systems.
Whether you're looking for an easy-to-use system, high-end custom automation, or an affordable option, there's a system for you.
There is an increasing number of fast, smooth, easy do-it-yourself solutions for everyone in the market and other home automation systems targeting homeowners who want whole house automation systems.
The best home automation systems of 2023 and home automation basics presented in this article are the ultimate guides to finding the perfect system for you.
With the best home automation system that fits your needs, you can bring comfort, convenience, and security to your daily life.
With this guide, you now have all the knowledge you need to get started on your smart home journey.
Happy automating!